Planet Fitness Donates Equipment
Hard work and a caring spirit pays off for DHS students

by Patty Massengill  Aug 14, 2019
Earlier this year when spring was coming to an end, Physical Education Teacher Jennifer Wegman was hard at work trying to acquire gym equipment for students at Dinwiddie High School (DHS). Ms. Wegman contacted many of the surrounding area gyms and fitness clubs.  Her dedication and hard work paid off when she met Brandon Sturgill, marketing director of Planet Fitness.  Mr. Sturgill put Ms. Wegman in contact with CEO Bill Asbell of the Bill Asbell Franchise Group of Planet Fitness and an awesome opportunity developed.
Mr. Asbell and his partners own thirteen Planet Fitness franchises; many in Roanoke and Fredericksburg, but also in nearby areas to Dinwiddie such as Colonial Heights, Chesterfield, and Richmond. Planet Fitness routinely re-equips their locations with either cardio or strength equipment on rotating  cycles.  It just so happened that the Roanoke Planet Fitness that was going through a re-equip this summer.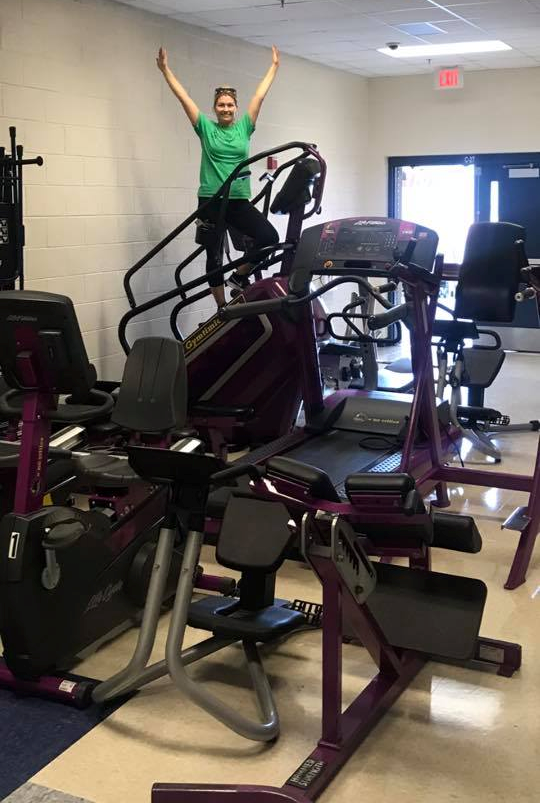 "I grew up in a small town in Vermont and know it's hard to get money in the budget [for equipment]," Asbell said. "With four kids of my own, my partners and I like to help local communities in various ways which can benefit kids.  This equipment is very rugged and should hold up for years to come."
Mr. Asbell graciously agreed to donate this equipment to Dinwiddie County Public Schools high school gym. Not only was Ms. Wegman able to get cardio equipment donated, but also strength equipment totaling 15 pieces combined!
"Bill Asbell is amazing! After a lot of planning, we went to Roanoke, and picked up a large amount of equipment for our weightroom," Wegman said with such enthusiasm. "It's all about our STUDENTS and finding different ways to meet the needs of all students. This equipment helps us teach healthy life skills and brings more learning opportunities, not only for this school year but for many years to come. Thank you Bill and Planet Fitness, We are very excited and grateful!"
Dinwiddie County Public Schools is proud of Jennifer Wegman's commitment to helping all students at DHS enjoy physical fitness, from student athletes to those with disabilities. The Bill Asbell Franchise Group donated treadmills, ellipticals, recumbent bikes, hammer strength benches, precor stretch chairs and more. Their generosity will be felt by students for years to come.