2018-2019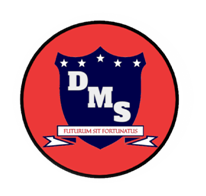 Mr Chuck Moss, Principal
cmoss@dcpsnet.org
Ms JaVonda Tucker, 7th Grade Assistant Principal
jtucker@dcpsnet.org

Ms Kimberly Partin, 6th Grade Assistant Principal
kpartin@dcpsnet.org
Mr Jerry Jones, 8th Grade Assistant Interim Principal
jjones@dcpsnet.org
"We are a community of leaders and learners committed to the idea that everyone must be successful."
Mr Moss
---
Table of Contents
Secretarial and Department Staff
Attendance Policy
Behavior Expectations
Bus Regulations and Bus Discipline
Cafeteria
Disciplinary Support From Parents
Dinwiddie County School Discipline Policy
Offenses
Accidents
After school Activities
Articles Prohibited in school
Care of School Property
Change of Address/classes
Clinic/Medications
Family Life Education/Field Trips
Drills
Gifted program/Governor School
Dress and Grooming
Grading Systmem/ Guidance Services
Hall Passes
Homework
Expectation of Student Work
Principal's Scholar
Honor Roll
Insurance
Library/Media Center
Lost and Found
Lunch Program
Lunch Regulations
Moment of Silence
Parent Conferences
Physical Education
PTO
Report Cards and Progress Reports
School Pictures
School Closings
School Resource Officer
Shadowing
Snack Machines
Special Education Services
Staying after School
Student Council Association
Substitutes and Aides
Surveillance Cameras
Title IX of the 1964 Civil Rights Act
Visitors of the School
Withdraw or Transfers
Yearbook Publications
SECRETARIAL and DEPARTMENT STAFF
Main office – Ms Morgan 469-5430
Fax for office 469-3389
Attendance office – Ms Brown 469-5425
Guidance office – Mrs Allred 469-5427
Nurse/Clinic – David Dayvault 469-3675
Transportation/Bus Garage 469-4360
Cafeteria Manager – Mrs Winckler 469-5430 (ext 2207)
School Resource Officer – Officer Schneph 469-5430
ATTENDANCE POLICY
Good attendance is vitally important.  Regular attendance is the first step in becoming a successful student.  IF YOU MISS SCHOOL, YOU MISS OUT!  Promptness to class is very important.    The Dinwiddie County School Board directs that the staff in the Middle School develop a positive program of communication, counseling, and correction for those students who are absent without an acceptable excuse.
Students will be expected to make up work for all classes missed within 5 days of their return to school, whether the absence is excused or unexcused.  Extenuating circumstances may be considered in extending the time limit. If makeup work is requested during an absence, the assignments must be turned in completed upon return in order to receive credit for those assignments.
Students who are absent must bring a note to the Attendance Office from a parent on the first day they return to school stating the reason for the absence.  The only excuses for absence that shall be deemed acceptable are the following:
Personal illness (3 days with parent verification)

Court appearance

Death in the immediate family or household (4 days)

Field trips and school-related activities

Extenuating circumstances as determined by the administration
Unexcused tardiness, absences, and/or skipping are considered violations of compulsory attendance. (Refer to the DCPS CSC)
State law requires that schools make every reasonable effort to contact parents (by Blackboard Connect Parent Notification System) every day a child is absent from school.  Parents are encouraged to call the school and report their child's absence. Parents may call the attendance office at 469-5425 beginning at 7:00 A.M.
Perfect attendance is awarded to students that were present every day that school was in session with no tardy arrivals and/or early dismissals.
ARRIVALS
Please note the following rules for arriving at school:
No student should arrive at school before

7:10

a.m.

Students who arrive prior to the first bell (7:35) should be dropped off at the front door of the Main Building and remain in the Small cafeteria until the first bell.

If arriving late to school (after 7:40), a student must bring a note from a parent or guardian stating the reason for his/her tardiness and report directly to the Receptionist's desk.

After five unexcused late arrivals the student will be referred to the administration for discipline.
LATE ARRIVALS
When tardiness is necessary, written verification stating reasons for such shall be presented upon arrival. Tardiness shall be considered excused for reasons consistent with those for which an excused absence is granted. Students are not considered tardy when the bus arrives late. After five (5) unexcused late arrivals in a nine week marking period a parent meeting with the school counselor is required. After the tenth unexcused (10) late arrivals in a nine week marking period a parent meeting with the principal or designee is required. In the event that school officials deem it advisable, steps shall be taken to verify an excuse for absence, late arrival, or early dismissal. School officials may question a pattern of absences, late arrivals, or early dismissals when there is reason to suspect that forgery or a misrepresentation of facts may exist. Students in grades K-5 must be signed in by an adult when arriving late.
EARLY DISMISSALS
When early dismissal is necessary, written verification requesting such shall be received prior to dismissal. Early dismissal shall be considered excused for reasons consistent with those for which an excused absence is granted. Dismissal prior to the end of the set school day is considered early dismissal and will be coded as such. After five (5) unexcused early dismissals in a nine week marking period a parent meeting with the school counselor is required. After the tenth (10) unexcused early dismissal in a nine week marking period a parent meeting with the principal or designee is required.
RELEASE OF STUDENTS TO PARENTS
No child may be released during school hours to anyone who is not the legal guardian or parent and/or whose name does not appear on the pupil registration card, without consent of the legal guardian.  No student will be released from class until a parent or guardian arrives at school.  When picking up a student during school hours, the parent must report to the front desk and sign the student out.  Students who are being transported home from school by someone other than a parent must have written permission on file in the Attendance/Main Office.  Students must have a car pass in order to get in the vehicle with someone other than their parent or guardian.  Car passes may be obtained from the main office secretary. A parent must come in person to sign a form to give permission.  A non-parent driver and the student involved must show the passenger pass upon request.
TRAVEL TO AND FROM SCHOOL
The school is responsible for students in route to and from school.  Students are to come directly to school after they leave home in the morning.  Students are to go home after school, unless they have written permission from their parents to stay for a supervised activity.  Parents and authorized persons are the only ones who may drive students to and from school. Students should not accept rides from strangers.  Bikes, Skateboards, and Motorbikes are not permitted on school property.
VACATIONS DURING SCHOOL TIME
Vacations during school time are discouraged, as it interrupts the instructional schedule of the student.  Parents shall contact the school administration, in writing, at least one week before departure.
Behavior Expectations
DMS is a quality learning community where expectations are based on respect and responsibility.  There are three basic expectations for all students in all areas of the building.
Be Respectful.

Be Responsible

Be Safe.
BUS REGULATIONS AND BUS DISCIPLINE
The Code of Virginia Section §22.1-176, permits School Boards to provide transportation for pupils, but does not require them to do so.  For Dinwiddie County Public Schools, daily bus services will be provided for all students living in excess of one-half mile from school. Students eligible for transportation may be required to walk up to two-tenths of a mile to reach a bus stop.  (Refer to the DCPS CSC)
BUS PASSES
In emergency situations ONLY requiring a student to ride a different bus in the morning and/or afternoon, the parent must write a note stating:
Student's first and last name

Parent's name and phone number where they can be reached

Bus number student is to ride

Address of bus stop where student is to get on/off

Name of person student is going home with (please include the adult/sitter's name)

Date

Parent's signature
All requests for bus passes are to be brought to the attendance office before first period.  Bus passes may be picked up during the student's lunch period.  Bus passes may not be available for certain buses due to overcrowding.  A list of overcrowded buses will be made available to the Attendance Secretary.
REQUESTS FOR BUS CHANGE
School bus routes and stops are established by the DCPS Department of Transportation.  Students are not allowed to leave their bus at any stop other than their own stop, nor are they allowed to ride a different bus than their regular bus except in cases of extreme emergency.  Requests for a bus change should be made to and approved by an administrator and presented to the driver. Please state your specific reasons for requesting a change. If the request is approved, the student will be allowed to make the change provided that it will not cause overcrowding.
BUS DISCIPLINE
RIDING THE SCHOOL BUS IS A PRIVILEGE!
Should a student be referred for discipline (Example:  rude and defiant behavior), an administrator will be responsible for disciplinary action, which may include the loss of the privilege of bus transportation until the parent, the bus driver, the administrator, (and in some instances, a Transportation Department representative) can arrive at an understanding which will correct the problem.  The parent will be responsible for the transportation of students who have lost school bus transportation privileges. Absences due to suspension from the bus will be unexcused.
FIGHTING ON THE BUS
Fighting on the bus or at the bus stop is the same as fighting at school, usually resulting in out of school suspension. The administrator may modify the penalties on a case-by-case basis.
Cafeteria
The school offers breakfast and lunch daily at reasonable prices.  Breakfast is served to students in a "grab-and-go" manner. Students wanting breakfast will report to the cafeteria to receive their bagged breakfast after obtaining a signed pass from their teacher, and return back to their classroom.  Students are asked to obey the following rules:
Go to the cafeteria in a safe and orderly manner.

Students should be quiet when going to and from the cafeteria.

Follow instructions given by teachers and cafeteria staff.

Move through the lines without breaking, crowding, or pushing.

Leave tables, chairs, and floor clean for the next group.

Deposit waste, food, paper, and trays in the proper places.

Food/beverages are not to be taken out of the cafeteria.
Disciplinary Support from Parents
A positive and consistent home/school relationship is vital in supporting student success.  Parents, teachers, and administrators must work collaboratively to ensure students are displaying appropriate behavior.  The following are suggestion to maintain a positive home/school relationship:
Recognize that the teacher is in charge of the classroom while the child is in school.  

Maintain regular contact with teachers.

Teach the child respect for law, authority, the rights of others, and for private and public property.  

Stress regular school attendance.

Work with the school in carrying out recommendations made in the best interest of the child, including discipline.

Talk with the child about school activities and show an interest in his/her report cards and progress.

Encourage enthusiasm about schoolwork.

Schedule sufficient time for home study.

Provide a quiet place to study at home on a regular basis.

Foster responsible usage of technology to include social media, and the internet.

Ensure your child gets adequate sleep.
PARENTAL RESPONSIBILITY
Code of Virginia §22.1-279.3, states parents of every Virginia public school student will be held accountable for the behavior of their children.  They must sign and return to their child's school a form acknowledging that they have reviewed the DCPS CSC.
DINWIDDIE COUNTY SCHOOL DISCIPLINE POLICY
The Dinwiddie County School Board expects a high standard of student conduct in an effort to ensure that education is provided in an atmosphere conducive to learning, free of disruption and threat to person or property, and supportive of individual rights.  Students are responsible, with each principal, faculty, and staff member, for maintaining a school environment in which educational programs can flourish and extra-curricular programs can proceed for the pleasure and benefit of all participants. Students and staff have a primary responsibility for creating a climate of mutual respect and trust in-schools in order that the dignity of the individual is protected and the hopes and ambitions of each student may be realized.  (Refer to Dinwiddie County Public Schools Student Code of Conduct.)
PROCEDURES AND CONSEQUENCES
Believing that an orderly environment of students is of utmost importance in the educational process, the Dinwiddie County School Board directs that the staff at the Middle School develop a positive program of behavior modification.  Following these guidelines, the staff at Dinwiddie Middle School has created a discipline policy that, while allowing for flexibility in handling minor routine violations, is also progressive depending on the frequency and severity of the infractions.  A variety of methods are used to enforce the discipline policy, and the administration may modify the penalties on a case-by-case basis.
Please note:  
If you are assigned After School Detention, In-school Suspension, or Out-of-school Suspension, you are not permitted to participate, practice, or attend any co-curricular or extra-curricular activities (including after school and evening activities) such as dances, awards programs, concerts, picnics,sports, field trips etc. on the day(s) of the suspension.
WARNING AND COUNSELING
Warning and counseling should be used where appropriate to assist a student to understand how his/her conduct interferes with his/her educational process, threatens the rights of others, or is contrary to school policy or regulations and needs to be corrected.
PARENT CONTACT
Believing that good discipline originates in the home and that a parent should have the opportunity to correct their child's inappropriate behavior at school, teachers, and/or administrators may contact parents to inform them of inappropriate behavior and solicit help.
LUNCH DETENTION
A student may be assigned lunch detention by a teacher and/or administrator for minor discipline issues.  Parents will be notified any time a student is assigned lunch detention. Lunch detention may be within the cafeteria at a specifically assigned table or students may be taken back to a classroom by one of the team teachers.
AFTER SCHOOL DETENTION (ASD)
A student may be assigned after school detention by an administrator or teacher for minor discipline issues.  A student shall be given at least one day's notice if he/she has been assigned After School Detention.  Since the detention period is from 2:30p.m. to 3:45p.m., the student must make arrangements with his/her parents for transportation home.  If it is impossible for parents to pick up their child from school on the day assigned, the parent may request another day. However, it is hoped that parents will make every attempt to provide transportation since the school feels this form of discipline is both the least punitive and the most effective means of handling routine discipline problems.  
Failure to report to ASD could lead to further disciplinary consequences.
IN-SCHOOL SUSPENSION (ISS)
Students are placed in ISS for a combination of violations when other measures have failed to correct the unacceptable behavior, or for a major act, which justifies their removal from the normal flow of school.
ISS is a supervised period of counseling, instruction, and individual work in which the student is isolated from the normal flow of the school.  Depending upon the severity and frequency of the offense(s), students may be assigned ISS for a single class period or for one (1) or more days.
While punitive in nature, ISS is also instructional as students complete assignments from their classes and other enrichment work designed to alter the causes of their misbehavior.  All of the work assigned in this program is written and is a substitute for the regular class activity.
Failure to follow established ISS rules and regulations may result in additional assignments, extended time in the program, and/or suspension from school.  Students must complete all work before they are released. While in ISS, students are permitted to participate in after school academic supports.
SUSPENSION FROM SCHOOL
A student may be suspended from school for violations of policy as set forth in the Code of Virginia §22.1-277.  Out-of-school Suspension (OSS) removes a student from school for a specific number of days because of conduct, which interferes with the orderly operation of the school.  The number of days students receive Out-of-school Suspension is based on the severity and frequency of the offense(s). Students are suspended out-of-school for those offenses, which the administrators feel, are the most serious and/or which ISS has shown little progress in changing.   Students will be allowed to make up worked missed during his/he suspension.
SUSPENSION FROM EXTRA-CURRICULAR ACTIVITIES
A student's privilege to participate in all or certain extra-curricular activities and/or school sponsored activities may be suspended for a fixed period of time or until certain specified conditions have been met.  Suspension from extra-curricular activities may be imposed in conjunction with other penalties.
BEHAVIORAL CONTRACT
Being placed on a behavioral contract is notification that a student's behavior has been unacceptable and must improve.  The administration shall notify the parent in writing when a contract is imposed, including the reasons and its date of termination.  The parent will be required to meet with the school administration to discuss the terms of the contract.
EXPULSION
A student's privilege to attend school may be terminated by the School Board in accordance with the Code of Virginia §22.1-277.  Offenses for which an administrator may recommend expulsion include incidents involving weapons, alcohol and drugs, and other behavior that endangers the safety and welfare of others in the school.
SEARCH AND SEIZURE
Please refer to the Dinwiddie County Public School's Code of Student Conduct Information Handbook. Random classroom sweeps may be conducted during the school year.  These searches will be non-selective and may include student desks, lockers, book bags and other items in classrooms.
SUSPENSION APPEAL PROCEDURE
(Refer to the DCPS CSC)
The student may not appear on any properties of the Dinwiddie County School Board during their suspension unless accompanied by a parent/guardian.
OFFENSES
ALCOHOL AND DRUGS
The use, procession, distribution, sale, attempt to sell, or being under the influence of a controlled substance, marijuana, illegal drugs, intoxicants,inhalants, imitation controlled substances, drug paraphernalia, or any unmarked container while on school property or while engaged in or attending any school activity is prohibited. (Refer to the DCPS CSC)
BOMB THREATS
Threats to bomb or damage school property and/or the spreading of false information regarding the above is unlawful and strictly prohibited.  Law enforcement personnel will be notified of each incident. (Appropriate disciplinary action will be taken against any student making such threats.)
"BULLYING"
"Bullying" means any aggressive and unwanted behavior that is intended to harm, intimidate, or humiliate the victim; involves a real or perceived power imbalance between the aggressor or aggressors and victim; and is repeated over time or causes severe emotional trauma. "Bullying" includes cyber bullying.  "Bullying" does not include ordinary teasing, horseplay, arguments, or peer conflict.
Recognizing the Difference
| | |
| --- | --- |
| Normal Peer Conflict | Bullying |
| Equal power or friends | Imbalance of power; not friends |
| Happens occasionally | Repeated negative actions |
| Accidental | Purposeful |
| Not serious | Serious w/ threats of harm |
| Equal emotional reaction | Imbalance of reactions – strong from the victim; no emotion from the bully |
| Not seeking power/control | Seeking power/control |
| Not trying to get something | Attempt to gain material things or power |
| Remorse – will take responsibility | No remorse – blames the victim |
| Effort to solve the problem | No effort to solve the problem |
CELL PHONES/ELECTRONIC DEVICES
The use of cell phones during the school day is not allowed at DMS. Cell phones should be off and put away during the school day, unless utilized for instructional purposes as determined by the teacher. The unauthorized use of any other electronic devices is also prohibited.  Any violation of this rule will result in a disciplinary referral. Refer to the DCPS CSC for further information.
CHEATING
When a student is guilty of cheating (which includes copying another's work and communicating with other students during test or quizzes), the teacher shall collect the student's paper, mark a zero for the work , and notify the parent and office immediately as to the action taken. Further discipline action will be taken when deemed necessary.
COMPUTER MISUSE OR ABUSE
Examples of computer misuse or abuse include but are not limited to having gum or food items near the computer, rough treatment of the equipment causing the equipment to break or malfunction, inappropriate behavior near computers including horseplay, using equipment without permission of school authorities, interfering with another student's program or computer work, copyright violations, programming the computer in an irresponsible way causing unnecessary delays or memory damage.  Students who abuse the equipment may lose computer time resulting in a zero on assignments or be referred for discipline. Visiting Internet sites not related to instruction will be considered a violation of computer policy and will be referred for discipline.
It is anticipated that eighth graders will be issued a Chromebook at the beginning of the 2017-18 school year.  Students are expected to bring their chromebook to school daily with a full charge. Chromebook violations for not having the device, fully charged, in class are as follows:
1st offense

– assignment due by the end of the following day;  no further extensions. Parent contact

2nd offense

– lunch detention;  Parent contact

3rd offense

– Referral to Administrator, ISS assigned

4th offense

– Referral to Administrator, OSS & parent conference
"Loaner" chromebooks will not be provided unless deemed necessesary by technology.  Chromebooks in need of repair must be taken to the help desk.
Refer to the DCPS Acceptable Use Policy for additional information.
DISRUPTIVE BEHAVIOR
Students shall behave in an orderly manner to support the orderly operation of the school or learning environment.  Students will respect others by waiting turns to speak in class, and assemblies, refrain from making noises or displaying disruptive behavior in the halls and locker rooms
DISRESPECT & DEFIANCE
Students will comply with directions given by teachers and other school personnel and respond in a respectful manner.
FAILURE TO IDENTIFY ONE'S SELF TO A STAFF MEMBER
Because of the size of the school, it is imperative that all students properly identify themselves when questioned by a staff member.  Any attempt to conceal one's true identity will be considered dishonest and appropriate disciplinary action will be taken.
FIGHTING
Because of potential injury to participants and bystanders, fighting is not considered an acceptable means for settling disputes.  Any student(s) who instigates a fight will be included in the suspension process. Physical fighting that causes injury to another shall be reported to law enforcement.  The administration may modify the penalties on a case-by-case basis. Students who attempt to prohibit school personnel from regaining order during a fight or who encourage fighting will be subject to disciplinary action as well.  Students who record fights with any electronic device will be subject to disciplinary action.
HORSEPLAY
Students will demonstrate respect for others by keeping their hands to themselves. Incidents of horseplay can effect the safety of students. Disciplinary action may result from these incidents.
INAPPROPRIATE DISPLAYS OF AFFECTION
Kissing, hugging, holding hands or similar forms of physical contact between students is prohibited.
LOITERING IN THE HALL/GROUNDS
Students at DMS will move from one class to another in a timely and efficient manner.  Students should keep to the right while moving through the halls and stairwells. While moving through the "square" students must proceed to the right.
SELLING ITEMS
The sale of items at school without the permission of the administration is prohibited.
SEXUAL MISCONDUCT/HARASSMENT
Students at DMS shall be free from sexual harassment.  Sexual harassment is defined as any unwanted or unwelcome behavior of a sexual nature, which interferes with a student's right to learn and participate in in-school activities in a comfortable and supportive environment.  Sexual harassment is illegal and prohibited
Any incident of alleged sexual harassment or misconduct shall be immediately reported to school officials and thoroughly investigated.  Appropriate disciplinary action will be taken depending on the nature of the offense. Incidents will be reported to the proper authorities immediately. Refer to the DCPS CSC for further information
SKIPPING CLASS
Reporting late to class is disruptive to instruction and interferes with the learning/teaching process.  Whenever a student reports ten or more minutes after the tardy bell, this is considered skipping class. It is imperative that the school be accountable for all of the students at any time, this is considered a serious offense and will result in disciplinary action.  Students leaving class without permission may be considered skipping class.
TARDY TO CLASS
Students are expected to be inside the classroom prior to the bell ringing.  On the fourth tardy, students will receive a disciplinary referral. Tardies are accumulated until the end of the nine weeks.  
THEFT & ATTEMPTED THEFT
Theft or attempted theft of personal or school property will result in suspension from school with a possibility of charges being filed with the Sheriff's Department.
THREATS & VERBAL ABUSE
Verbal, written and/or physical abuse/threats to a student or a staff member is a serious offense, which may result in suspension and a recommendation that legal charges be filed by the student or staff member.  In cases where, after reasonable attempts to resolve conflict, a student verbally threatens or becomes aggressive toward another student or staff member, local law enforcement authorities will be contacted
TOBACCO PRODUCTS – USE OR POSSESSION
The use or possession of tobacco products/ paraphernalia by students on school property and/or in association with an instructional day activity is illegal and prohibited and shall result in suspension and/or expulsion from school with a referral to law enforcement officials. Electronic cigarettes or vape devices will be handled in the same manner.
TRUANCY
Any student who does not attend school and does not have parental permission to be absent is considered truant according to Virginia State Law.   
UNAUTHORIZED AREAS
To maintain a safe environment for everyone, students are expected to be in their assigned areas at all times.  Students who fail to follow the procedures will be considered in an unauthorized area. The administrator will determine the penalties on a case-by-case basis.
USE OF PROFANITY/OBSCENE GESTURES
The use of vulgar language,oral or  written profanity, obscene gestures, defamatory remarks, or other such language will not be tolerated.  Such language will result in disciplinary action.
WEAPONS
Students shall not have knowledge of, use, or have in their possession or on their persons any type of weapon (operable or inoperable) or imitation weapon.  The term weapon shall include, but not be limited to guns, blank guns, pellet guns, firearms, knives, razors, slingshots, brass or metal knuckles, num-chucks or similar instruments, box cutters, blackjacks, explosive devices or other objects which are or may be used as weapons.  Imitation weapons shall mean any item which, by its overall appearance, including color,shape, size, marking or package, or by representations made, is intended to lead or would lead a reasonable person
to believe that such item is a weapon.  Refer to the DCPS CSC for further information
ACCIDENTS
Every accident in the school building, or on the school grounds, must be reported immediately to the person in charge and to the school office.  An accident report will be completed and filed in the Clinic office.
Back to TOP
AFTER SCHOOL ACTIVITIES
We encourage all students to become involved in club, organizations, and athletics.  Some of the available groups are the Student Council (SCA), Crime-Solvers, Fish Club, Science Club, Future Farmers of America (FFA), Yearbook, and National Junior Art Honor Society.  These groups may meet after school as necessary. Depending on interest and finding sponsors, additional clubs may be added. Additional activities may be help throughout the year including dances, faculty basketball games, talent shows, etc.
When attending meetings/events, parent permission is required and we ask that students are picked up promptly at the completion of the meeting/event  Students participating in these meetings/events are expected to follow all DMS expectations.
ARTICLES PROHIBITED IN SCHOOL
Problems arise each year because students bring articles to school, which are hazardous to the safety of others or interfere in some way with school procedures.  These items increase the likelihood of theft, and the staff is unable to expend valuable instructional time dealing with the theft of prohibited items. Items such as hand held media devices laser pointers, athletic equipment, skateboards, toys, or anything deemed as disruptive to the instructional environment are prohibited in-school (unless approved by the administration).  Prohibited items will be confiscated and returned to the parent at their request. Parents are requested to help children understand the necessity for such regulations. Repeated incidents will result in disciplinary action.
CARE OF SCHOOL PROPERTY
Students are responsible for the proper care of all books, supplies, and furniture supplied by the school.  Students, who disfigure property, break windows, or damage to school property or equipment, will be required to pay for the damage or replace the item.
CHANGE OF ADDRESS / CLASSES
CHANGE OF ADDRESS
If a student's address changes during the course of the school year, parents/guardians are to contact the Guidance Office.
CHANGE OF CLASSES
For a class change to be considered, a written request has to be sent to the student's Guidance Counselor within the first 6 days the start of a class. Final approval is made by the Administration.   Additional information regarding class changes may be obtained from the guidance department.
CLINIC/MEDICATIONS
The nurse is available daily for the care of students and the administration of medications.  Students going to the clinic must have a pass from their teacher.  Prescription medications will be dispensed by the nurse only when written permission is obtained from both the physician and the parent.  The permission form and medication must be delivered to the nurse by the parent. All approved medications must be kept in the clinic and will be administered according to the procedures established by the School Board.  Students found in noncompliance with these procedures are subject to disciplinary action, including expulsion.
At the end of the year, parents are to pick up unused medication from the nurse.  Any medication not picked up after 10 days will be discarded.
FAMILY LIFE EDUCATION/ FIELD TRIPS
FAMILY LIFE EDUCATION "OPT-OUT" PROCEDURE
A Family Life Education curriculum is taught in all grade levels.  There is a Board of Education regulation on opting-out and it states:  "An 'opt-out' procedure shall be provided to ensure communication with the parent or guardian for permission for students to be excused from all or part of the program."  Physical Education teachers will provide more information and opt-out forms as needed. A student will receive Family Life Education unless a written request is received from the parent.
FIELD TRIPS
Field trips will be planned by teachers to supplement the instructional program.  Written parental permission is required for all students prior to participation in any field trip and students are expected to meet permission form guidelines.  Students should remember that while they are on field trips they represent not only themselves but also the student body of Dinwiddie Middle School. All rules of conduct applicable at school shall apply to all students on field trips.  It is imperative that parents be on time to pick up their child upon return to school.  Students may not be allowed to participate in a field trip if suspended or in ISS during the days leading up to the trip.  Field trip money will not be refunded to students unable to go due to discipline issues
DRILLS
The school will conduct fire drills, tornado, and emergency lock down drills throughout the year to ensure proper safety of the building occupants.  The building is equipped with fire extinguishers for use in the event of an actual fire. Tampering with or setting off these extinguishers except in case of an actual fire will result in disciplinary action.
Code of Virginia § 18.2-212, false fire alarms initiated by students will result in suspension from school and referral to law enforcement personnel.
GIFTED PROGRAM/GOVERNORS SCHOOL
GIFTED PROGRAM
Dinwiddie County provides for gifted students through the differentiation of the regular curriculum and through special provisions.  The organizational pattern utilizes enrichment, grouping, acceleration, and guidance.
GOVERNOR'S SCHOOL
8th graders interested in attending the Appomattox Regional Governor's School may obtain an application from the guidance office.  Completed applications are forwarded to the Governor's School. The Governor's School handles the interviewing and selection of students.
DRESS AND GROOMING
Refer to the Dinwiddie County Public Schools Code of Conduct.
GRADING SYSTEM/GUIDANCE SERVICES
GRADING SYSTEM
To ensure consistency in grading among teachers and subject, DMS has implemented a grading policy.  The policy for all subjects is as follows:
                            GRADING SCALE
A 90 – 100
B 80 – 89
C 70 – 79
D 60 – 69
F 59 & Below
GUIDANCE SERVICES
Guidance services are available to all students and include educational planning, occupational or career information, test interpretation, and assistance with home, school, and/or social concerns.  Students wishing to visit their counselor must complete a guidance request form and obtain a pass from a teacher. The State of Virginia has adopted a "guidance opt-out" policy. If you wish to opt your child out of any guidance services, please call the counselor to discuss the issue and secure the proper paperwork.
Counselor Assignment
6th Grade Mrs. Rhonda Scheich
7th Grade Mrs. Stacy Lewis/Testing Coordinator

8th Grade Mr. John Thompson
HALL PASSES
When in the hallways during instructional time, students will have a signed student agenda pass completed by a staff member.
HOMEWORK
The completion of homework is the responsibility of the student.  Homework maybe assigned each day and should be expected by both students and parents.  Homework assignments should be turned in on the due date. If homework is not turned in on the assigned date, the student will have the opportunity to complete that assignment.  If a student is absent from school it is the student's responsibility to request and/or obtain missed work from his/her teachers upon the student's return.
EXPECTATION OF STUDENT WORK
It is the expectation of Dinwiddie Middle School that students will complete work on time.  All make up work will be completed in a timely manner. Work not completed within an expected time frame may be subject to a reduction in the class work or homework grade.
PRINCIPAL'S SCHOLAR 
Students obtaining an overall weighted nine-weeks grade point average of 3.875 and higher.  Students cannot have a letter grade lower than a B letter grade. (Students receiving a B- or below will be excluded.)
HONOR ROLL
Students obtaining an overall weighted nine-weeks grade point average between a 2.875 and a 3.874.  Students cannot have a letter grade lower than a C letter grade (students receiving a C- or below will be excluded.
INSURANCE 
Student insurance is available at a nominal cost and is optional.  When a student who is insured under this plan is injured, the parent should contact the insurance company directly.  The school merely acts as a medium in supplying the insurance and assumes no liability, either for the injury or subsequent negotiations with the company.
LIBRARY – MEDIA CENTER
The library is open from 7:10 a.m. until 3:00 p.m. each school day.  After-hours library time is available by appointment. A student must have an agenda pass signed by a teacher or faculty member to visit the library during class time unless he/she is coming to the library with a class.  Students must sign in the notebook when entering the library. Students are welcome to browse, read, check out books, conduct research and take Book Adventure quizzes. Students are expected to conduct themselves in the same manner they conduct themselves in the classroom.  Students are expected to use the library's resources for educational purposes and to behave in accordance with school policies. Library material should be returned in a timely manner. The checkout period is two weeks for non-fiction books and fiction books with the option for renewal. Students will be charged for lost or damaged books and materials.  Outstanding library obligations may block students from participating in some school sponsored activities.
LOST AND FOUND
Students who find lost articles are asked to take them to the small cafeteria.  During the day students are to check in the small cafeteria for items that they have lost.  Items not claimed will be donated to a local charity at the end of each nine weeks. Due to the overwhelming number of lost items, it is suggested that parents put names in student jackets, hats, sweaters, sweatshirts, and shoes.
LUNCH PROGRAM
Breakfast and lunch are served daily at a cost determined by the School Board.  Additionally, all students will be given an application for the Free or Reduced Lunch Program at the beginning of the school year.  Students who are entitled to the Free or Reduced Lunch Program must return the application to their first period teacher. If your child qualifies, breakfast and lunch will be served at a reduced cost.  Under no circumstances may a student use another student's lunch number. Menus are posted monthly on the school website. Parents can put money their child's account by going to the school system's website, then find the School Nutrition page, where the K12 Payment Center is located. For more information on the Breakfast/Lunch program, please contact the Food Service Department at (804) 469-3581.
LUNCH REGULATIONS
Students will use proper table manners at all times.  The school office or cafeteria will not lend money to students for lunches.
MOMENT OF SILENCE
Code of Virginia § 22.1 – 203 states that each school division shall establish the daily observance of one minute of silence in each classroom within the division.  Students may not interfere with other student's ability to observe this moment.
PARENT CONFERENCES
Parents are encouraged to maintain regular contact with their child's teachers and guidance counselor.  Parents may make appointments for conferences with teachers or counselors by telephoning the Guidance Office at 469-5427.
Physical Education Excuses
Students unable to participate in Physical Education due to temporary illness or injury must present to their physical education teacher a written excuse, signed by a parent, stating the reason for non-participation. In the event of illness or injury that would keep one from participating in Physical Education beyond three days, the parents must provide notification from the family doctor stating the reason for and duration of non-participation.
Back to TOP
PTO
The Dinwiddie Middle School Parent-Teacher Organization will meet regularly throughout the school year. Parents are encouraged to participate as officers and members in the vital organization, which represents our school and community.
Report Cards and Progress Reports
Report cards will be issued at the end of each nine weeks of school. Progress and interim reports will be sent mid nine-weeks. Dates for report cards and progress reports are found on the the Dinwiddie County School District calendar.
School Pictures
All students are encouraged to have their picture taken by school photographers for the purpose of placing a file picture in each student's permanent record. Parents can purchase picture packets. Order forms are sent home prior to picture dates. These pictures will also be printed in the school yearbook.
Back to TOP
School Closings
When ever inclement weather or other reasons make it necessary to close schools or delay opening, the Dinwiddie County Public Schools Central Office will notify local radio and television stations to announce the cancellation. Please listen to your favorite station for this information and do not call the school as this often prevents school officials from receiving necessary calls. The administration staff usually try to announce any early morning cancellations by 6:00 am. The Blackboard Connect (Parent Notification) system has also been set up for emergency notification as well as other important and up-coming event notifications.
School Resource Officer
The SRO is an integral part of the total school program. He serves as a law enforcement agent, educator, community liaison, and roll model. He works collaboratively with administrators and staff to prevent violence and maintain a safe and secure learning environment.
Shadowing
To improve attendance and involve the parent in assisting with the student's behavior, administrators may request that a parent attend school with their child. This shadow requirement may be in place of or in addition to an out of school suspension.
Back to TOP
Snack Machines
The snack machines located near the cafeteria are available for students to use after school.
Back to TOP

Special Education Services
Special Education is instruction specially designed to meet the unique needs of a child with a disability. Please contact the school Guidance department for more information.
Staying after school
Students must have written permission from a parent/guardian to remain after school for club meetings, activities, or tutoring. Verbal permission will not be accepted over the phone. For your convenience, some clubs will have multiple meeting dates on a single permission form. Students not staying for a legitimate activity should leave the building and property by 2:40 PM. Repeated violations of this rule will be considered trespassing.
Student Council Association
The DMS Student Council Association is an organization of students that act as a sounding board for student proposals and ideas and serves as a liaison between students and faculty. An elected president, vice president, and secretary/treasurer run this organization, as well as the homeroom representatives.
Substitutes and Aides
Substitute teachers are employees of our school. It is the responsibility of students to see that every courtesy and assistance is offered to substitutes. At various times during the school day students are under the direct supervision of teacher's aides, which are during lunchtime, breaks, and between classes. Aides are classified personnel and are to be treated with the same respect as teachers and other adults. Refusal to obey an aide will be considered defiance of authority and will result in disciplinary action.
Back to TOP
Surveillance Cameras
Security cameras are located throughout the building and monitor movement and activity both inside and outside the school 24 hours a day.
Title IX of the 1964 Civil Rights Act
The School Board of Dinwiddie County pursuant to the directives contained in the Title IX has proclaimed that it shall be the policy of sex, race, color, religion, handicapping conditions, or national origin in employment or in the educaitonal programs and activities which it operates.
Visitors to school
Visitors arriving at school should first report to the front desk or the main office and receive a visitor pass. From there the visitor may be given permission to visit specific areas in the school or will be guided through the school. All day visits by student guests are prohibited. The administrator may modify this on a case-by case basis.
Withdraw or transfer
Parents should notify a guidance counselor if a child is to be withdrawn. Parents should provide a forwarding address and the name of the school the child will attend, if known. A release form for forwarding all records should be signed. Please call one day in advance.
Yearbooks/Publications
A yearbook featuring student, faculty, and activity pictures is a photographic history of the school year and will be delivered in June. Yearbooks can be ordered online and/or purchased through the book keeper.